Added: From the Dec. 10, 2007 issue of
the Nation
:
Love By a Thousand Cuts
http://www.thenation.com/doc/20071210/schwabsky/2
And here is the latest review from
Slate
of the stirring work of my former student and friend's art:
Great slides and commentary!
http://www.slate.com/id/2177536/fr/rss/
The Anti-Oprah
The violent, abject, sometimes disconcertingly tender art of Kara Walker.
Posted Wednesday, Nov. 7, 2007, at 7:25 AM ET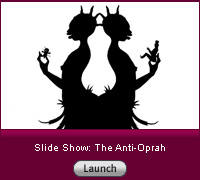 Click here to read a slide-show essay about Kara Walker.
Jack

.
.
.